President's Message
Where's your happy place? Mine is somewhere between the snow and the stars! I'm never happier than flyin' down the mountain, wind in my face, taking in natures beauty & hearing my skis sliding on the snow! I feel happy happy like a dog with my head out the car window! Life is better on a ski mountain!
The calendar says FALL has arrived……I'm TRYING to think cool but hard in 90 degrees! Apparently, some of you are also having a hard time thinking about cooler weather and what does cool weather bring with it? SNOW,of course!!! And when it snows, what do Orlando Ski and Travel Club peeps do???? We go play in it! NOW is the time to sign up for the ski/board trips!
Each year, it seems our lodging contracts have earlier and earlier cancellation dates, the date in which the club has to release rooms back to the property or incur penalties. In being good STEWARDS of our Memberships money, Leadership tries to avoid holding unsold space beyond those dates. Thus, for Leadership to protect YOUR $$, we need YOU to sign up early for trip(s)! Got it?
Same situation for our FIRST EVER Dude Ranch trip! Yes, it means planning way ahead as trip is September 2019! Yet, if you snooze, you lose, there will be no space! We want to take over the whole ranch, for the ranch to be ALL ours, just us ski clubbers to be cowgirls & cowboys for a little while! For that to happen, you need to commit NOW!
Orlando Ski and Travel Club had a fun &educational adventure to Titusville earlier in September. We had a GREAT turnout for dinner first at Dixie Crossroads, delicious and nutritious (okay maybe not the later), YUM! Then we launched kayaks into Mosquito Lagoon, of theIndian River, to experience a natural Florida phenomenon of glowing bluewaters alive with activity called bioluminescence! Great experience with nature!
Other local adventures coming soon for OSTC is Comedy Night at Aloma Bowl on Sunday, Sept 30th; reserved seating at Magic Game on Friday, Nov 2nd; and, College Park Jazz Concert on Saturday, Nov 3rd, with VIP table close to the stage. Bring your own picnic and adult beverage, theme the table and enjoy an evening under the stars with great jazz musicians! Also watch for details on Balloon Glow at Blue Jacket Park in mid-November and other local events. More details soon at:
Our Monthly Socials continue to have FABULOUS turn outs! We love seeing NEW FACES participating and we hope all who are enjoying our hospitality will proceed to joining the Club. It's a very nominal fee to be a MEMBER and your Membership Dues helps defray cost of the Socials. Sign up now:
See you at one of our great local events or at the next social Weds, October 10th!
All we need is powder! Think snow, Your Prez


ONE OF THE CAUSES OUR CLUB SUPPORTS
A few letters from some of the kids.



Orlando Ski & Travel Club upcoming trips

Telluride, Colorado
"The Most Beautiful Place You Will Ever Ski...and party"
Nestled at the end of a box canyon in the San Juan Mountains of Southwest Colorado, Telluride sits against the most beautiful backdrops imaginable. Surrounded by the greatest concentration of 14,000 foot peaks in North America, this charming and authentic town is far removed from the hectic pace of everyday life. The eight block historic district is lined with colorful Victorian homes, elegant restaurants and boutiques, fine art galleries and plenty of Old West saloons. A 13-minute gondola ride links the town to the European inspired Mountain Village, with its unsurpassable scenic ambience and ski-in/ski-out lodging. While the mountain is known for its challenging terrain, 38% of the 1700 acres is rated intermediate and 24% beginner. There are plenty of corduroy cruisers, meandering green and blue runs, moderate bumps, along with the steep and deep if you want.

LODGING: Mountain Lodge at Telluride, spectacular ski in/ski out lodging located in the Mountain Village. Condominium amenities include gas fireplaces, jetted tubs in the master bathrooms, gourmet kitchens, CD sound systems, and balconies. Upstairs lofts in 2 BR suite feature a partial wall open to below. The main lodge has a beautiful lobby with an immense fireplace, restaurant and the "View Bar" (very convenient for après ski!). Other amenities include a 24-hour front desk, concierge, outdoor heated pool and hot tub, onsite ski rentals, and a fitness center with steam room. It's a short walk or shuttle to the shops and restaurants in the "mountain village" and the free gondola that takes you to the historic town of Telluride for shopping and dining.



?
Are you going?



11/02/2018
7:00 PM

Location:
Amway Center, Orlando FL
Magic Game at Amway Arena!
Go with Club Members,
Club Members, sit in the Lower Bowl!
Membership NOT required.
Saturday, November 3, 2018
6PM - 11PM
Featuring 12 live bands on 3 Main Stages, for a night of smooth, funky and soulful jazz. Edgewater Drive is shut down to accommodate the thousands of people who join in on this exciting night. All restaurants will be open for business, many offering drink specials and special menu items for the event. Many of College Park's unique boutiques and businesses will also be open for you to browse and shop. Food Trucks and Vendors will be set up for you to grab a bite to eat and/or drink, while hanging out and enjoying the electric atmosphere of the evening.


Trip Leader: Steve Clark
(407) 803-2239 E-mail: SClark2575@cfl.rr.com
Funday Humpday Social Happy

Hour for Active 20s, 30s, 40s
Wednesday, 10/19/18 @ 6:00pm
Meet other people that love participating in activities such as Running, Hiking, Tennis, Snow Ski and Boarding Trips, Adventure and Party Trips! Just stop by, say hi and hang out for bit. We're meeting in a Super New Downtown Orlando location at the ACE Café with Easy, Convenient and Free Parking.4-7 pm Happy Hour Specials include $3 Domestic Drafts, $4 Wine, $4 Drinks and $6 Happy Hour Eats menu! RSVP on Meetup.com through the link below. Our second Humpday Happy Hour in April was a Success bringing a really fun group together that socialized long enough to close the bar!!
Hosted by Steve Clark - VP of Trips & HH Host
RSVP for the Active HH here:
Same price Check vs.Credit Card

Credit Card payment must be
FULL PAYMENT.
Prices subject to change due to airline taxes, fuel surcharges & airport fees.
LODGING DROP DATES ARE EARLY THIS YEAR, REGISTER NOW TO ENSURE YOUR SPACE ON YOUR TRIP(S) OF CHOICE!
Adventure - November 3-18, 2018…New Zealand FSC Trip, Auckland, Rotorua, and Queenstown NZ includes 1 night stay over in Hollywood CA, 3 nights in Sydney, Australia, 9 Nights in New Zealand!
Price: $6,200 per person dbl occ. Includes Air (all flights), ground transfers in private motor coach. Hot bkfast daily; Ferry to and Island of Wineries, Lord of the Rings Hobbiton Village Tour, Maori Village Dinner experience, Skyline Gondola Dinner, SS Earnslaw Lake Cruise Dinner at Walter Peak Colonel's Estate with sheep shearing show. Bucket List Trip!
Trip Leader: Steve Clark 407-803-2239
EMAIL: SClark2575@cfl.rr.com
Ski- December 6-10, 2018…Aspen, Colorado…Pre-Holiday Luxury Trip at Great Pre-Season Price!
Price: $1,179 per person dbl occ. Includes RT air into Aspen, 4 nights in the heart of star studded Aspen at the quaint luxurious Limelight Boutique Hotel w/daily hot breakfast, pre-trip party & Welcome Reception. Lift tixs at low pre-season rate of $65 per day, for 4 wonderful ski mts! Come get in the spirit at Holiday decorated, fabulous Aspen!
3 spaces left on the trip and looking for 1 female roommate
Trip Leader: Steve Clark 407-803-2239
EMAIL: SClark2575@cfl.rr.com
Ski- January 26 – Feb 2, 2019 …Big Sky Montana, FSC Trip… Big Mountain, Big Fun!
Price: $1,773 per person dbl occ. Includes RT air into Bozeman, 7 nights lodging at Huntley Lodge (optional Shoshone or Village Center condos), ground transfers, magnificent breakfasts, two FSC dinners with entertainment, a group lunch and après ski socials. Join us as the Florida Ski Council circles the wagons in Montana's premier ski destination!
Sold out, accepting wait list sign ups only

Trip Leader:Jackie Warren 407-314-0207
EMAIL: jwa407@aol.com
Ski- February 9 –16, 2019...Crested Butte, CO... Historic Old West Skiing and Good Times!
Price: from $1,733 per person dbl occ. Includes RT air, ground transfers, 7 nights luxurious lodging at the Grand Lodge Hotel with breakfast, or the Lodge at Mountaineer Square condos, steps from lifts. Pre-trip, welcome party, & apres ski parties includes the Amazing Ski Race. CB is a National Historic Landmark mining town w/several dining, drinking and shopping venues.
Single female looking to share room in Grand Lodge

Trip Leader: Dale Ulmer 407-920-6582

EMAIL: dalerulmer@gmail.com
Ski- February 23– Mar 2, 2019 …Park City Utah, Slopeside FSC Trip…
Price: $2,218 per person dbl occ. Roundtrip air Orlando/Salt Lake City; rt 35 min. airport transfer; 7 nights ski in/ski out lodging at the at Snow Flower Condominiums; pre-trip party & welcome party; 2 FSC dinners w/DJ & dancing; mountain picnic; opportunity to ski Park City, Canyons & Deer Valley. Optional 1 day Ski opportunity at Powder Mountain.
Park City trip has only (6) spots left; needs 2 people to share one bedroom in a 2-bedroom condo.

Trip Leader: Shelley Daniel 321-262-3694
EMAIL: debaryskigirl@gmail.com
Ski- March 2-9, 2019… Telluride, CO… The Most Beautiful Place You Will Ever Ski and Party!

Price: $1,840 per person dbl occ. Includes RT air to Montrose, ground transfers, spectacular slope side condo units at Mountain Lodge, Pre-trip & Welcome Parties. Telluride is an authentic town with 8 block historic district lined w/colorful Victorian homes, elegant restaurant/boutiques & plenty of Old West saloons! A gondola links Mt Village to town. Trip leader Dan Davis is looking for a single female roommate to help fill another space on the tip, for information contact him at the below phone or email.
Telluride trip has only (2) spots left and needs a female to share a room.

Trip Leader: Dan Davis 248-974-6258
EMAIL: dantes2@att.net
Ski/Tour–March 9–20, 2019…Cortina & Venice, Italy…FSC European Unique Ski & Tour Experience!
Price: $3,641 pp dbl occ.Includes RT Air; all ground transfers; 7 hotel nights 5* Cortina, 3 hotel nights 4*Venice; bkfast daily, 5 dinners, Mt Lunch & Gala Party. Optional 6 ski days, with one unique ALL day circular ski experience, plus 2 local ski areas close to hotel; day tours to Bolzano, Conegliano, Innsbruck & Udine. Guided walking tour of Venice, bring walking shoes!
Italy trip needs a female to finish out a room and has only 1 room left.

Trip Leader: Kathryn Hardage 407-341-3796
EMAIL: hardage.kathryn@gmail.com
Adventure - April 17-21, 2019…Las Vegas… Party and Hiking!
Price: $1,150 per person dbl occ. Air NOT included; INCLUDED - Van Transportation; 4 nights Awesome Double Occupancy 4 Star Accommodations; Top Tier Vegas Show; Comedy Show; Mt Charleston Hike and Lunch; Local Attraction Tour; Red Rocks Hike; Valley of Fire Hike; Group Breakfast at Iconic Diner. Pre-Trip Party. See the Lights and the Strip a whole new way!
Trip Leader: Steve Clark 407-803-2239
EMAIL: SClark2575@cfl.rr.com
YOUR
ORLANDO SKI AND TRAVEL CLUB
BOARD MEMBERS
Kathryn Hardage, President
407-341-3796 EMAIL: hardage.kathryn@gmail.com
Steve Clark, Vice President of Trips

407-803-2239 EMAIL: SClark2575@cfl.rr.com
LeeAnne Trimble, Vice President of Year Round Activities
407-843-8014 EMAIL: breck356.prv@gmail.com

Jackie Warren, Treasurer

407-314-0207 EMAIL: jwa407@aol.com
Rhonda Ulmer, Secretary
407-921-2656 EMAIL: rhondacpm@gmail.com

Bob Mackey, Past President

407-647-2130 EMAIL: mackeybob@centurylink.net

David Pugh, Webmaster

407-619-2687 EMAIL: webmaster@orlandoskiandtravelclub.com
Betsy Miller, Membership

407-221-3590 EMAIL nuey2@yahoo.com

Shelley Daniel, Parliamentarian

321-262-3694 EMAIL: debaryskigirl@gmail.com
Sandy Racinski, Director at Large
407-497-6145 EMAIL: sracinsk@aol.com

Grier Silverbach, Programs

407-647-6009 EMAIL: silverbach@earthlink.net

David Miller, FSC Delegate

407-619-6441 EMAIL: dwmski@yahoo.com

Michael Beckman, Newsletter

386-747-6162 EMAIL: FAMILYREALTYMIKEBECKMAN@HOTMAIL.COM
Orlandoskiclub.com
Orlando Ski and Travel Club - SOCIALS
Orlando Ski and Travel Club organizes snow skiing, snowboarding trips. We also do adventure travel to places like New Zealand. OSTC planned trip, Aspen, Big Sky, Snowshoe, Crested Butte, Park City & Cortina Italy. Join Orlando Ski Club's monthly Social, 2nd Wednesday of every month.
Orlando Ski & Travel Club, a proud member of

Stay in shape or tune up your skills for skiing/boarding at WinterClub Ski
Airport parking for $5 a day. Just show an OSC badge when you exit.
No reservations.
Also stay connected with

A Little Funny


Three snowboarders are riding in the back of a car who is driving?
What kind of parties do skiers go to?
************************************Answers at the bottom of the Newsletter
***************************
THIS MONTHS CLUB MEMBER BIO
"Ever since seeing my first mountain in Colorado when I was young, I have always loved the majestic beauty of the mountains despite being born and raised in Orlando (one of the few natives). So, the ski trips out west are my favorites and the Orlando Ski and Travel Club is such a great group of people that are fun to hang out with and to travel with. Do you know our club does a lot more than snow ski/board? Whitewater rafting, kayaking, zip lining, comedy clubs, jazz and blues concerts, Magic Games, Balloon Glow, art tours, bicycling and historical tours, etc. are just some of the things to join in on. Do you have a favorite non-ski activity that would be a fun event for our club? Would you be interested in volunteering to help with some of those fun non-ski activities?
Email me
breck356.prv@gmail.com and let me know. We'd love to have you join our all volunteer team(s)! "
LeeAnne Trimble
VP of Year Round Activities
Orlando Ski and Travel Club
LAST MONTHS HAPPENINGS

September 2018 Social
FORWARD THE FUN
FEEL FREE TO FORWARD OUR NEWSLETTER TO YOUR FRIENDS & FAMILY
Bioluminescent

KAYAK TOUR 2018
Bioluminescent kayaking recap
On a warm, moonless summer night 29 of us from the Orlando Ski and Travel Club ventured out to the Atlantic coast. We enjoyed dinner at Dixie Crossroads restaurant, then went on to the Merritt Island Wildlife refuge. There we boarded kayaks and spent nearly 2 hours on the warm waters of Mosquito Lagoon on the Indian River. Paddlers' spirits were not dampened by a brief shower at the outset of our excursion. We were treated to the ghostly blue glow of bioluminescence. Microscopic plankton known as dinoflagellates give off light where ever the water is disturbed, including by our vessels and paddles. When they weren't leaping out of the water the mullet left blue "vapor trails" as they darted around. Our guides handed out nets which allowed us to scoop up comb jellyfish. These are small, flat, circular marine creatures which vary between the size of a dime and a quarter. They don't sting but they also glow at the touch. Thanks to all who turned out to share this adventure.
Trip Leader Steve Sovich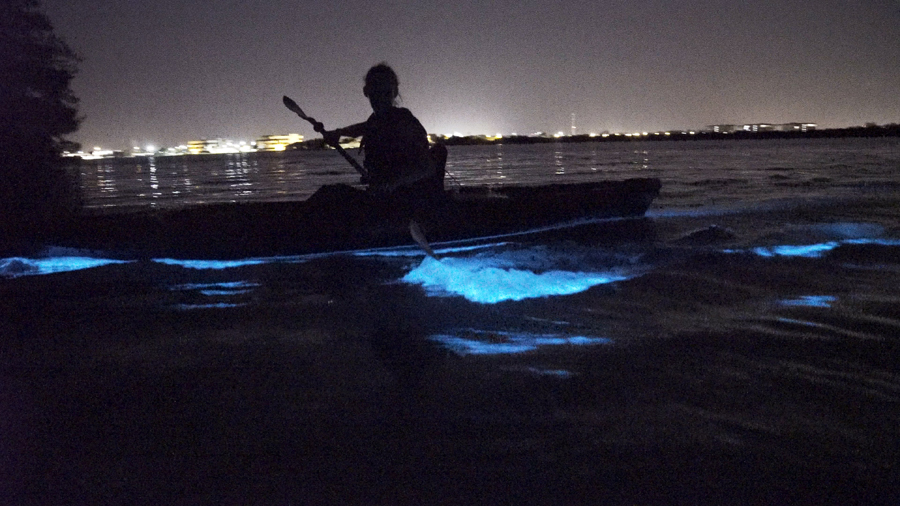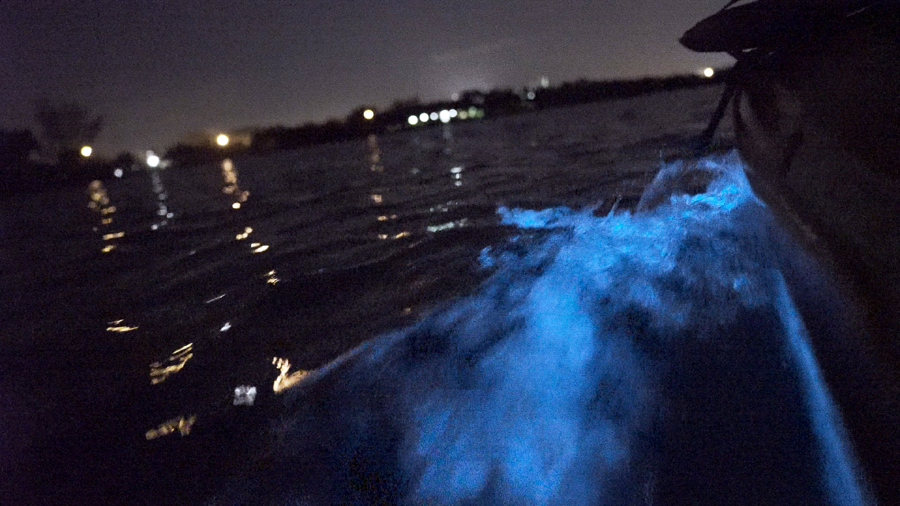 FYI
PARK CITY SKI RESORT

Park City Mountain, the largest resort in the United States, is located in the heart of Park City, Utah, only a 35-minute drive from Salt Lake City International Airport and steps from historic Main Street in charming Park City. Park City Mountain bustles with activities year-round with two distinct base areas, nine hotels, thrilling family adventures, and more than two dozen restaurants. With 7,300 acres, over 348 trails, 41 lifts, 8 terrain parks, one super pipe and one mini pipe and ski-in-ski-out access to historic Main Street, Park City Mountain offers endless adventures for every level of skier or snowboarder to enjoy. More information at http://parkcitymountain.com.
New this season at Park City Mountain, you can unlock the secrets of the past and discover Park City's rich mining, skiing and local history on the Silver to Slopes Historic Mining Tour. On this free, guided ski tour, you will explore the mountain with an expert guide and uncover the historic mining buildings and hidden relics scattered across the resort. Tours are recommended for intermediate level skiers/riders and above and depart daily from the Park City Resort Base area at 10:00 am and at the Trail Map near the top of Bonanza lift at 1:00 pm. After the tour, you'll receive a signature pin to commemorate your visit to Park City Mountain.
Add a little flavor to your experience at Park City Mountain. Park City Mountain offers a variety of choices for great food and drink both on the mountain and off. While skiing or riding at Park City Mountain, try lunch at Lookout Cabin, a sit-down table-served lunch with spectacular views of the Wasatch Range or ski into Miners Camp restaurant located at the base of the Quicksilver Interconnect Gondola. Finish your day with an elegant meal at The Farm restaurant located in the lobby level of the Grand Summit Resort Hotel.
Article from Ski Utah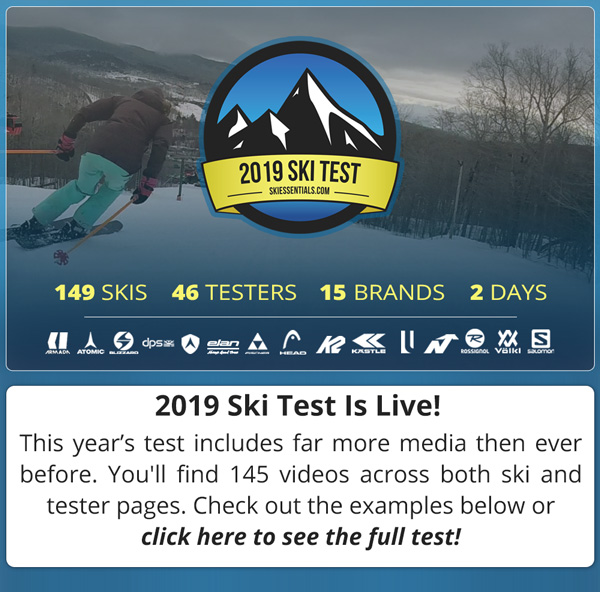 SKI ESSENTIALS

2019 SKI TEST
SKI TRIVIA
ANSWERS TO LAST MONTHS QUESTIONS
Who founded the NSP?

Answer: Charles Minot Dole

Charles Minot "Minnie" Dole organized a volunteer patrol for the National Downhill Races at Stowe, Vermont.
Which North American ski areais located close to the town in which the outlaw Butch Cassidy is reputed tohave robbed his first bank?
Answer: Telluride
Butch Cassidy, birth name Robert Leroy Parker, and three other men robbed the San Miguel Valley Bank in Telluride, Colorado, stealing $21,000, on June 24, 1889. After a spell in prison, he formed 'The Wild Bunch' in about 1896. Harry Longabaugh, "The Sundance Kid", was one of the men who joined. The ski resort of Telluride extends to about 2,000 acress and has 115 trails. [Source tellurideskiresort.com, December 2008]
Who is largely credited for inventing snowboarding?
Answer: Jake Burton

Although the Snurfer was around first, Burton implemented key adaptations such as rigid bindings, allowing the snowboard to be more functional on the slopes. He founded Burton Snowboards in 1977, which continues to thrive today.
THIS MONTHS QUESTIONS
What year was the NSP founded?
Which North American ski resort was founded by Chet Huntley, co-anchor of The Huntley-Brinkley Report which aired back in the late 50s and 60s?
a. Crested Butte
b. Saddleback Mountain
c. Park City Mt .Resort
d. Big Sky Resort
Which skiing event has only red gates?

IF YOU DON't KNOW THE ANSWERS COME TO THE NEXT SOCIAL MEETING AND FIND OUT THE ANSWERS OR LOOK FOR NEXT MONTHS NEWSLETTER FOR THE ANSWERS
ANSWERS TO THE LITTLE FUNNY"s
THE POLICE

SNOWBALLS
TILL NEXT TIME

YOUR FRIENDLY NEWSLETTER EDITOR
M.B.